This one requires some explanation.
In 2009 I was a new graduate student in the Interactive Media program at USC (now the Interactive Media and Games program). One night during our weekly seminar, Scott Fisher – head of the program at the time – announced that because students kept stealing his water bottles he was going to put a new water cooler in the lab. The new water cooler came, and worked great for about 10 days – until we drank all the water in the two provided jugs.
Weeks went by with no replacement jugs. We worked late nights in the lab – groups of students huddled around glowing monitors furiously trying to make awesome games  – with that dry husk of a water cooler leering at us, mocking our thirst.
One night I'd finally had enough. Taking a cue from our many in-class discussions on "Serious Games" and "Games for Change" I opened up Adobe Flash, and in an hour or so built a game. A game with a powerful contemporary message. A game that would show the elites that they could no longer ignore our suffering. A game that could inspire all humankind to lay aside our petty differences and be united in the cause of ensuring well-hydrated game designers!
And that was how Water Cooler was made.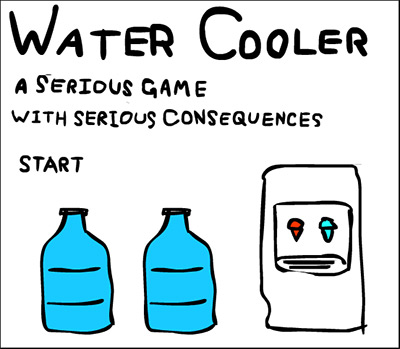 Anyway it worked. You can still see the reaction to it on the USC Interactive website ( look for Scott Fisher's response 🙂 ). New water arrived shortly afterwards and the cooler was finally filled.
I worked in that lab for 3 more years, and every time I drank from that water cooler I felt the satisfaction of having made the world a better place.